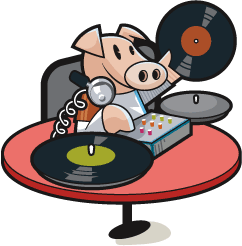 How to Make a Record
... and there's no business like the business of show business. So, to help us all understand how everything works, Ed. Pig has appointed - at positively enormous cost to the publishing budget - OINK!'s very own Show Biz Feature Editor, Hammond Egg. Hammond will give us the low down on the high flyers that bring us the entertainment we so love. And here he is ... Hammond!
We Love the Technology
With today's technology and the amount of places you can upload your music onto it's easy to make a record and become the latest singing or band sensation. Right?

All you need, surely, is a bedroom, some whizzy music computer equipment with the right computer programmes on it, and presto - you're a composer, a producer. Or a singer. Or a band. An instant 'star'! Even a 'super star' if you're mad enough to believe what the judges say to the contestants in the talent shows.

And once you've produced your record, what do you do with it. Take it to a record company? Difficult. An agent? Almost impossible. You can pop it onto YOUTUBE or FACEBOOK or iTUNES and the world will download it, right? You'll be famous, right? People will be flocking to your site, to hear you, to know more about you, right?
Wrong!
It's possible, of course, and it has happened, but think of how many people could be doing it if it were that simple. Now think of how many succeed. That's why you need a Simon Cowell by your side. That's the real X-Factor! If you're VERY lucky. Management. Guidance. That's the key.
When the Work Begins...
Because once you've been 'discovered' the real work begins. Making a professional record is a big and complicated business. You have to choose the right songs, they have to be arranged for the various instruments, you must have a 'sound' and how the record is presented to the world are all factors that go into producing a record.

If you're lucky enough to have a record company behind you, they take care of booking the recording studios, the musicians and the engineers. You may, of course, have your own studio and equipment, but you still need the tweaking that professional producers can add to a record. Your record company will get you the tv spots, the pr, the plugs on radio. If not, you're on your own.
"Making It"
Mark Ronson made it virtually on his own, although it helps to have very influential people around you who can open doors. In the end, though, you stand on your own merit. So does the record. And no amount, of friends in high places, will make the record a real success. Mark Ronson will tell you that. Simon Cowell can get you into the charts, but your music, and you, will need to keep you there. Look at One Dimension. Part of their success is the magic of Cowell. But even he admits that the boys have got that extra 'something'. And, make no mistake, their records are successful because they work at it. Each one of the band works their social media networks so that they keep the buzz going.

Remember, making a record is relatively simple. Making it a success is a lot of hard word. Making your second record is the real test!



back