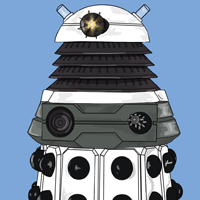 Doctor Who???
… and there's absolutely no business like the business of show business… OINK!'s very own show biz feature editor has been talking to the good and the great, getting the low down on what's coming up on TV, in the theatre, on the screens and trying to make some sense of how it all works… and here he is… Hammond Egg!
Dr. Who?
1963 was when it all started, with William Hartnell as the first Doctor. Now we're on the eleventh one, with Matt Smith playing the venerable doctor at the helm of the Tardis.

With a cast of plenty, a budget which would have made the producers of the first series weep with envy, and visual effects that would blow away most top US films, Dr Who returns to our screen for another exciting series, full of impossible exploits, incredible stories and that mesmeric music!

Ever since Russell Davis breathed new life into the series, Dr Who has gone from strength to strength and is now one of BBC TV's top programmes. Ever.

How do they do it!
Scripts, Coffee, Rewrites... More Coffee
Apart from the effects, the sound, the colour, the speed and the volume of each show, the scripts are great and very inventive. Writers are a funny bunch. Some like writing all alone in a room or a shed at the end of a garden – it's amazing how many writers have sheds at the end of a garden! Other writers, especially in the US, like to write in teams. The latest series is written by Steven Moffat, so expect a lot of action on the screen.
Costumes, Coffee, Sets, Coffee and SFX
With designers from the Costume, Sets and Special Effects departments piling in their 'wants' and 'must-haves', you can expect this series' production values, and cost, to be right up there on the screen.
Tears, Laughter, Coffee, Bacon Rolls at 6am... Bliss
Nothing – and I mean nothing – beats a bacon and egg roll from the location catering truck when you're out filming in the wee hours of the morning. And there would have been plenty of those during the filming of this series.
Price of Success
And we hear tell, that, as usual, The Doctor Who Christmas Special will be, well special. Oink! has learned that Richard E. Grant will be starring in this special edition of the show. No details on the part, but it can't be anything else other than the villain. Boo – hiss!! Grant previously played the time-traveling Doctor himself in 2003, in the online animated series Scream of the Shalka. He will be joined by Tom Ward, Harry Cunningham in BBC One's Silent Witness. Matt Smith's new companion, played by Jenna-Louise Coleman, is also expected to make her debut. Not to be missed. And, of course, the Daleks reappear from various eras of the sci-fi show, carrying on their eternal threats to exterminate, exterminate, exterminate!!



back