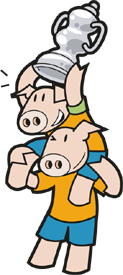 The "F" Factor
Football - a powerfull force in our lives!
We all know what an effect the X Factor can have on those winning the show, let alone those getting to the top three. But what about that other favourite british pastime: football. What effect does footie have on our lives? More than we would normally expect. Kids – and it's now not only boys, but also a growing number of girls - spend big money on the latest kits and other paraphernalia. Some people even say football is now more about selling t-shirts than the game! With season tickets costing in the hundreds, sometimes thousands of pounds, and the additional costs of drinks, snacks and merchandise, OINK! has learned we can spend a stomping £90 plus each time we go to a game. That adds up to mega money when you consider how many matches are played up and down the country each week!
Big Bucks
Footballers, as we know, can make £100,000+ a week which is useful for stoking up local trade in places where they live: they live well, buy nice homes, entertain a lot, travel and party, look after themselves. Then, if you're David Beckham or someone like him, there's the merchandising and the commercial world which revolves around you. This means, agents, managers and merchandisers, perfume companies, sunglasses manufacturers, clothes producers - even producers of the adverts and photographers and all their staff, chefs and caterers and hairdressers (the list is endless), all literally living off the opportunities that football has, ultimately, provided for them. It's massive. Television? The premier league is huge business: Sky Television had to pay hundreds of millions of pounds to buy the rights to show the matches.


When it all goes wrong...
But what happens when it goes wrong. Well, we saw it when none of the British teams qualified for Euro 2008 and the finals wouldn't be taking place in England. Consequently, not only were we disappointed, but one estimate put the cost to the whole British economy at some £2 billion. That includes lost sales on everything from barbecues to flags and all the advertising that goes with it. Business lost out, too: no visiting fans hit hotels, travel agents, pubs restaurants and clubs.

Television sales were kicked into touch, even supermarkets called time – everyone was hit. It even effected the stock exchange: shares in sports companies Umbro, Sports Direct and JJB Sports fell as a result of England's failure. And this wasn't just in England: Austria and Switzerland are also hit as there won't be any travelling England fans! That's some impact. That's big money. That just goes to show us how important football is – not only on, but off the pitch!