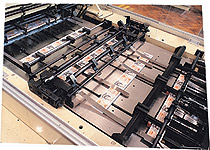 Take Note
OINK! goes behind the scenes to find out how banknotes are made!
Designing
First, an artist creates a sketch of the note in pencil and ink. Computers are used to create intricate background patterns. The finished design is then etched on to a printing plate.
Mixing the Ink
The inks have to be mixed very carefully in order to create the exact colours required. Pastel colours are often used as these are much harder to copy.
Making the Paper
The paper used for printing banknotes is much tougher and less likely to tear than ordinary paper. It also has its own special security features, including watermarks and a strip of metal foil woven through the paper.



back