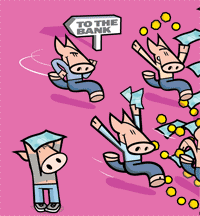 Run On The Bank
We've all heard that expression... A few years ago, it really happened: that was Northern Rock. Much more recently, of course, we've had problems with numerous banks: RBS, Natwest, HSBC, Lloyds. And while there wasn't as dramatic a run on these banks, an awful lot of people decided they'd had enough of the banks' behaviour and withdrew literally billions of pounds and placed the money elsewhere.

A few banks and building societies benefited from this latest banking fiasco, of course. Nationwide and The Co-Operative Bank being two of them. But also, some of the smaller banks gained a lot of new customers. So, in a sense, you could say there was a run on some of the banks in the last couple of years, too.

What is a "run on the bank", though?

Picture the scene: It's 1823. The Wild West. You're in a dusty town, in a dusty state, with the sun beating down. People ambling, sleepily around the dusty streets. Your name? Dusty, of course. Yup, there was a lot of dust in Mid-West America in 1823! A crowd assembles from nowhere. Quiet conversation quickly grows into shouting, people point to a building. THE BANK. There's a rumour going round town - "The Bank's gone dust. No!!! The bank's gone bust! Right. OK. Let's go get our cash!", they all cry.
'Your Money or Your Life!'
As if in one motion, the crowd, now larger, angrier and dustier, run towards the bank, shouting "Give us our money. We want out money!" They surge up the Bank's steps and flood the banking hall, where the clerks cower behind their iron clad tills. "Give us our money - or we'll shoot!"
Short of Cash
Well, this wasn't quite the scene in our high streets outside the banks. But, in essence, the story was the same. News was circulating that the banks were in crisis. UK, Ireland, Spain, Greece, Italy, USA. It was so bad that even the banks were finding it difficult to borrow money from each other. The banks didn't trust one another! Banks borrowing from banks is how they finance their business. Their business is, basically, taking in money and putting it in savings accounts giving the savers interest on their money, and then lending that money to people and companies at a higher rate of interest, thus making a profit. But, with money in short supply, and confidence in banks at an all-time low, banks were finding it difficult to borrow. News got around that they were short of cash, and just as they did in the Old West, people panicked. A run on some banks started - people were turning up at the bank and demanding to have the money from their savings accounts. In cash!
Bad News?
This was not good news for banks - or for us. Whilst banks have assets (all the things they own), it was still not good news. Banks survive on trust. At least we thought so until recently. We all believed that banks were safe places for our money. Not any more!!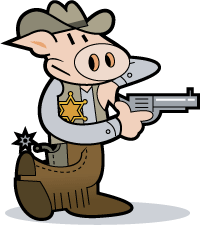 The Bank of England to the Rescue!
The panic became so intense that the Bank of England and the British Government had to step in and bail out the banks. They could not allow the big banks - and they really were the big banks - to fail. That's why, today, Royal Bank of Scotland, Natwest and Lloyds are actually mostly owned by the tax payers of Great Britain.

As you know from the OINK! articles on the Bank of England, it is often referred to as the bank of last resort because it literally is the last place a bank can turn to if it gets into trouble. The Bank of England helped out this time (it doesn't always!) because it was important that British banks were seen by the world to be safe havens for their money.

Was everything hunkiho after this? Not really. The Bank of England and the Government ploughed billions of pounds into the banks to save them. The expectation was that the banks would then lend out some of this cash to businesses which needed credit (money loaned by the banks to its customers) to operate their companies. Did that happen? No!

The banks decided, practically to a man, that having received all this cash they'd just, well, sit on it. Do nothing. Go fishing. It was partly fear of running out of cash again and partly that they couldn't decide what to do. So, it was felt it was better to do nothing. After all, if they had all this cash, they could simply put it into accounts which made them heavy interest. But wait - they didn't want to do that, either. Because they didn't trust any other banks. They each were worried that the other would fail. And so it went round and round.
That's enough - everybody off!
Until the Government decided to get tough. And the Bank of England got tough. And everyone got tough. And the banks were told that unless they lent out some of their cash - now - there would be serious trouble. So very grudgingly, the banks agreed, and started to turn on the tap of money again, so that companies could borrow some much needed cash.

Only the banks didn't exactly play the game. They decided we could borrow money again. Great! Thanks, banks. But the conditions we had to meet became so stringent that it became more and more difficult to do so.
Greed is not good!
And then, scandal hit the banks! Banks were accused of charging too much for their fees. And mis-selling financial products. That is they induced people to invest in or buy into financial programmes that were either wholly unsuitable for that person or completely unnecessary. Then they were accused of paying some of their staff too much - not the tellers we see in the banks toiling away each day. No, the bosses and the big investment bankers. And then… they were accused of rigging the Libor rates. That means the banks were fixing the rates on interest they charged themselves so as to give themselves an advantage at the cost of the poor old customers. Confused? Exactly.

All this stuff didn't exactly cause a run on the bank - but it certainly ruined a lot of reputations, and it's going to take a long while for us to feel completely comfortable with our banks. As one old cowboy said to another it takes a lifetime to build a reputation, and five minutes to destroy it!



back